Moonstone Oysters
Point Judith Salt Pond, Rhode Island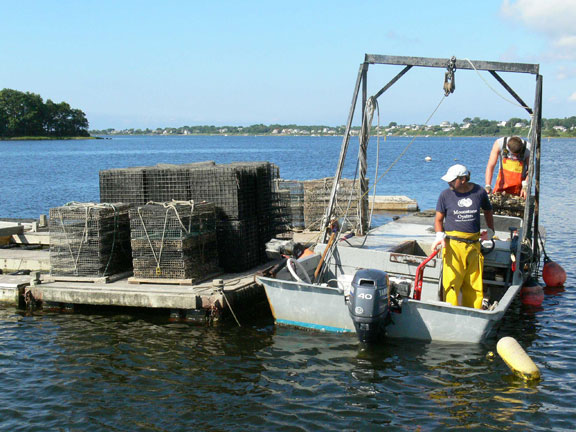 OYSTEROLOGY
Production: Farmed
Availability: Year - Round
Size: 3.5+ inches
Appearance: Clean and Polished Shells, Deep Cup
Flavor: Warm and intense brine with a bold and meaty texture.
SITE DETAILS
Salinity: 2.9% < 3.5% full oceanic salinity
Tides: 6 ft. tides and little freshwater input
Bottom Makeup: Clay, hard packed sand, and seaweed
Growout Method
Upweller reared, then moved to rack and Bag nursery; bottom culture grow-out harvested with modified bay-scallop dredges.
THE GROWER
Cedar island oyster farm is a family-run farm. Tending the farm certainly keeps John and Cindy West busy. They balance work with family time by taking their daughters to work with them during summer months and over weekends during the school year.
"For me, working outdoors and having a connection with the pond is wonderful. As a farmer, it's very fulfilling to teach the next generation the value of sustainable farming and how we can positively impact the environment. We treasure the time we share while working the farm alongside our daughters. In so many ways, it is a great fit for our family." –Cindy West